Journalists gathered from various media platforms, discussing the use of data in analyzing development issues in Nigeria, from insecurity, poverty, low unemployment rate, child mortality, education, governance, etc.
Rotimi Sankore in his presentation at the 'Rotimi Sankore Masterclass' of the Civic Media Lab explained the link between underdevelopment and the numerous challenges of the country.
Data drawn from the National Bureau of Statistics and from various ministries across Nigeria were shared. Take a look at this.
EDUCATION
Across the Northeast, over 82%
57.4% of males from Sokoto of a population of 2,160554 and 59.9% of males from Kebbi, of a population of 1,900,705 have had no formal education.
CIVIC REGISTRATION
Zamfara state has the lowest number of civic registration in Nigeria, with statistics of children under 5 who are registered standing at 3.0%. Yet the federal government works to curtail the insecurity challenges by inaugurating the Battalion of Special Forces in Zamfara.
Katsina is 46.0%. Lagos 62.0%, Oyo 48/6%,  and, Enugu 48.1%
A close look at the geographical and sociological landscape of Nigeria and its bordering neighbours- Niger, Chad (who are consistently at the bottom of the Global Development Index) and Cameroon, show similarities in challenges and slow rate of development. These similarities provide a breeding ground for insecurity to thrive. If development is activated in northern Nigeria as well as in Niger, Chad and Cameroon, an healthy cycle will be propelled. Less money would be needed to tackle insecurity and the money again goes into more development projects.
DISTRIBUTION OF 'MALE PROFESSIONALS/TECHNICAL/ MANAGERIAL & CLERICAL JOBS'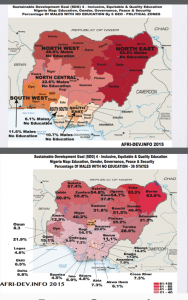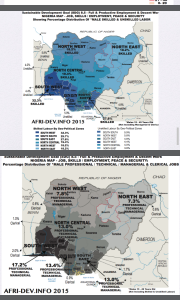 FORCED/UNDERAGE CHILD MARRIAGE
A look at the African Map shows that Tunisia, which is an Islamic nation, records only 2% forced child marriage. Algeria also records 2%. Tunisia and Turkey have even legislation against polygamy. Yet religion remains an excuse for a lot of Nigerians for the continued increase in the rate of forced child marriage, especially in the North where Islam is predominant.
A question you should ask is " isn't Islam the same in Nigeria as it is in Tunisia?" You will then see that journalists MUST be more thorough when asking questions surrounding development in Nigeria. Continued misinterpretation of religion keeps the nation largely underdeveloped, resulting in a scary cycle of maternal mortality, low number of girls in school, and women hobs and skills, participation in labour market, economic diversification and so on.
In Bayelsa state, the rate of forced child marriage is at about 50% We can quite remember Ese Oruru's story. Look at the statistics on VVF. Many doctors have given their services to carry out surgeries to repair these girls and women. A stern policy clamping down on forced child marriage would drastically reduce the number of VVF cases, as well as the financial drain this has on the economy.
"It is impossible to separate gender from development" says Rotimi Sankore, journalist and development policy expert and Editor, Afri-Dev.
With a multi-sectorial interpretation of these data, where do you think your reports and documentaries should focus on?
What stories would you be working on? Would you research more and ask more thorough questions?
Share with us in the comment box and send us your reports at info@medrive.org (sending us your report is taken as permission to share it unequivocally. You will be given due acknowledgement)